Structured Cabling
Structured Cabling systems support your immediate and future data, voice, and video communication needs. These systems consist of one or more defined types of cables and connectors, installed in a manner consistent with national (EIA/TIA 568A) and international (ISO/IEC 11801) standards. This standardization insures interoperability with active network components and protocols. Boss CommTech's experience and in house RCDD (Registered Communication Distribution Designer) ensure efficient, standards-compliant designs.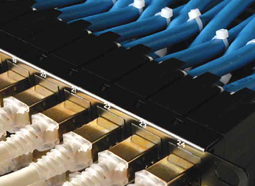 Needs Analysis and Design
ISO Class F (Category 7)
Category 6A
Category 6
Category 5E
Siemon Extended Warranty
Certification


The Siemon Cabling system is a series of quality, ISO-compliant structured cabling solutions. In 1995, Siemon selected Boss CommTech as it's' Certified Installer (CI) for Hawaii. Since then, we have installed hundreds of Siemon Cabling Systems ranging from Category 5E to ISO Class F (Category 7). While these systems have ranged from dozens to thousands of outlets, they all share the quality and reliability of American manufactured Siemon components. As a CI, Siemon can guaranty these components and our installation for a period of 20 years.
Request a Quote