Safety and Management
An organizations investment in IT hardware is often substantial, and safety of its staff is a priority. Integrating the protection of staff and IT assets can be achieved by careful analysis, and implementation of monitoring, safety, security, and asset tracking systems. A well designed system will proactively monitor and inform management of potential problems, allowing preventative efforts to minimize downtime and/or damage.
Site assessment
Fire suppression
EPO systems
Environmental monitoring
Power monitoring
Cable management
Asset management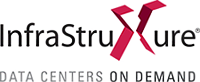 APC InfraStruXure (ISX) is a revolutionary approach to Data Center infrastructure needs. InfraStruXure is a modular, pre-engineered system that combines UPS, power distribution, cooling, racking, and management. InfraStruXure is scalable, redundant, energy efficient, and IT product agnostic. It reduces expensive onsite construction costs while satisfying functional and aesthetic considerations. Boss Commtech has implemented InfraStruXure systems ranging from 12.8 to 400 kilowatts.
Request a Quote