​
Security
Video security is an increasingly critical consideration for public and private organizations. However, a poorly designed system may be only marginally better than no system. It is common for event video to be of such low quality as to be unusable for identification purposes.
Boss CommTech is partnered with Mobotix of Germany to provide high-resolution IP video solutions. Many of our Mobotix deployments have replaced existing low performance analog systems.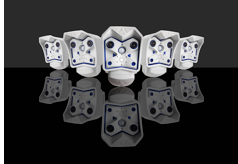 Site assessment
SAN/server storage
Mobotix Cameras
IP video/sensor/alarm integration
Access control

Mobotix IP video cameras are the number two best selling security cameras in Europe and number four worldwide. One of the keys to that success is a decentralized architecture, with image processing occurring in the camera, not at a centralized storage device. This can substantially reduce network load, and hardware and maintenance costs. With their internal storage, Mobotix cameras do not even need a DVR or NVR.
Another Mobotix advantage is their dual dedicated day and night lenses with multi-megapixel resolution. By optimizing one lens for day imagery, and the other for night, image quality is greatly improved and useable for identification purposes.
A single Mobotix hemispherical camera can provide more coverage than two or even three conventional cameras, and eliminating blinds spots. Its software allows it to act as one panoramic camera, or up to four virtual cameras.
The Mobotix activity sensor software dramatically reduces false recordings in outdoor environments, eliminating the common practice of setting outdoor cameras to continuous recording.
Boss CommTech has deployed several hundred Mobotix cameras at dozens of sites on Oahu.
Request a Quote